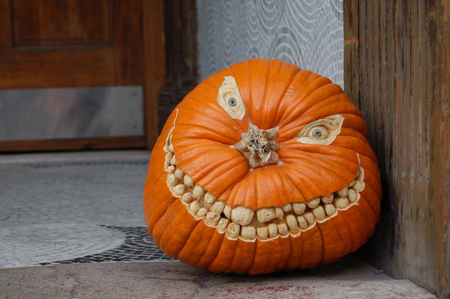 No Halloween plans yet? No worries! There's no shortage of spooky activities going on in Nova Scotia this time of the year…
Country of the Corn
With such an abundance of farm land nearby, it only seems natural that someone would create a haunted corn maze! (Actually, several people have.) If you've already made your trip to the Annapolis Valley to pick out a pumpkin and grab some amazing produce from the fall harvest – head back in for some corn maze fun.
Noggins Farm offers a family-friendly corn maze seven days a week, as well as a haunted mansion! Riverbreeze Farm: The Bloodfields in Truro steps things up a notch with a full-on, strongly themed haunted corn maze. Think actors, a creepy back story, blood, gore and a lot of adrenaline! This is not for the faint of heart. Open every Saturday night in the month of October; leave the little ones home for this.
Scary Movie Night
Walk home in the dark after a night at the theatre with friends. There's usually several scary movies being released around Halloween, and this year it's Paranormal Activity 4, Silent Hill: Revelation, and The Hole. If none of these are hardcore enough, find your favourite horror flick on iTunes or at the store (Video Difference on Quinpool has an awesome selection – their horror section is even sub-categorized). I love getting spooked vintage style with Carrie, The Exorcist or Candyman! If you really want to make a spooky, giggly night of it, dig out the old ouija board with some friends, just like back in junior high!

Haunted Halifax
There's always a ghost-related experience waiting to be had in Halifax. Stories revolving around shipwrecks, pirates, tragedy and just plain ol' creepy, historic buildings are everywhere. Just ask someone who's ever worked at the Five Fisherman Restaurant – one of the more famously haunted buildings in our city.
Our spooky tours are just that much better in late October. Join the oldest ghost walk in Halifax on the night of October 30th – its sure to get you in the mood! Tours start at 8:30pm and last two hours.
Happy Halloween!